Who can make an electronic project submission?
In order to submit your project electronically you need to possess an electronic signature. You need the electronic signature in order to sign the Application for participation and the accompanying declarations A, B and C available for download in section Documentation. The other project materials should not be signed in order to keep anonymity.

Where to submit my project?
What should a project submission pack include?
In order to participate in this competition you should prepare:
All the necessary materials as described in the Panels, formats, files Chapter of the Competition Brief (p 60-62), namely:

Panels from 1 to 8 (1.pdf, 2.pdf,... 8.pdf)
Description (description.pdf)
Thumbnail (thumbnail.jpg)
Cover Image (cover.jpg)

All the necessary documents and declarations available for download at Documentation section, namely:

Application for participation, signed with electronic signature (VarnaLibraryApplication)
Declaration A, signed with electronic signature (VarnaLibraryDeclarationA)
Declaration B, signed with electronic signature (VarnaLibraryDeclarationB)
Declaration C, signed with electronic signature (VarnaLibraryDeclarationC)

See examples and instructions for filling in the documents.

A copy of a document attesting to the professional qualification of the participant or at least one of the participants' team, issued by the Chamber of Architects in Bulgaria or by a corresponding authority in participant's own country. Please, add a translation to Bulgarian or English, if the document is in other language. There is no need for a legal translation. (File name: qualification.jpg or qualification.pdf. If a translation is added, pack the copy of the original and the translation in a single pdf file: qualification.pdf).
A list of names of all team members, in case of a team participation (team.pdf).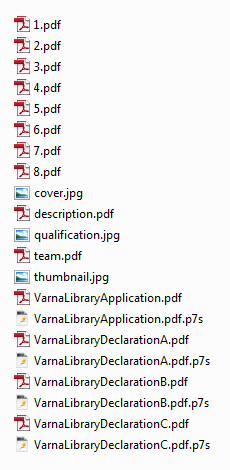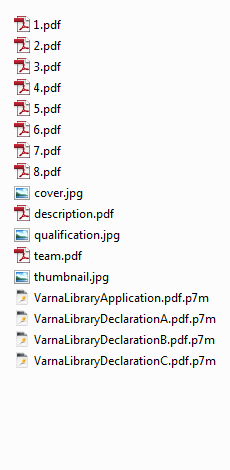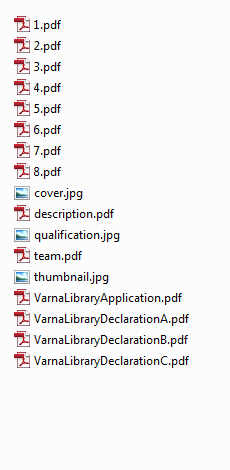 How should I submit my project?
Place all the above mentioned files in one .ZIP file. The name of the .ZIP file should be the six-digit number (motto) which you have already selected for your project (for more details on the motto, check the Competition Brief, (p 60-62)
Send this file (or a link to it using WeTransfer, Dropbox, Google Drive or other service for sending or sharing large files) as an email message to submit@varnalibrary.bg.
The Subject of the email should be the participant's name and their six-digit number (motto). If the email is auto generated (e.g. by WeTransfer), put the name and the motto in the Message field (or somewhere where the name and the motto will be visible without opening the .ZIP file).
Submission deadline
November 23rd (17:30 ЕЕТ)